Opening Times:
Monday through Thursday

10:30 a.m. - 8:30 p.m.

Friday and Saturday

10:30 a.m. - 9:30 p.m.

Sunday

11:00 a.m. - 8:30 p.m.
Welcome to Christmas Wonderland!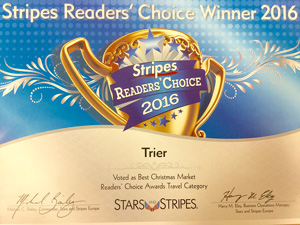 Romantic and pensive Christmas atmosphere: Where could you better get in the mood for Christmas than at one of the loveliest Christmas markets in Germany?
In the 90 festively decorated wooden booths you will find Christmas articles such as Christmas decorations, wooden toys, candles, hand-blown or engraved glassware, gift articles, ceramics and much more. Good food awaits you as well: bratwurst sausages, potato pancakes, sweets, hot tea and mulled wine. When are you coming to visit us?

Free "Park+Ride" Shuttle on all four pre-Christmas Saturdays
Starting at 10:15 a.m. on the four Saturdays of the pre-Christmas season, guests and visitors can reach Christmassy Trier easily at no cost every 12 minutes from the "Park+Ride" parking area at the Trier fairgrounds (Messepark), in Trier-Nord, and at the University of Applied Sciences (Hochschule) on B 51. The last return to the originating parking areas begins at 8:10 p.m.