Opening Times:
Monday through Thursday

10:30 a.m. - 8:30 p.m.

Friday and Saturday

10:30 a.m. - 9:30 p.m.

Sunday

11:00 a.m. - 8:30 p.m.
Trier: Best Christmas Market in Germany as Travel Destination in 2022 Pure romance between the attractively decorated Main Market and Cathedral Square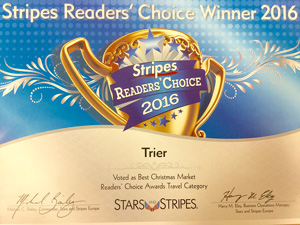 Herzlich willkommen im Weihnachtswunderland!
Ab Freitag 18.11.2022 planen wir bis zum 22.12.2022 die Öffnung des 42. Trierer Weihnachtsmarktes. Ausnahme 20.11.2022 sind wir wegen des Feiertages geschlossen. Romantik und Besinnlichkeit pur: Wo könnte man sich schöner auf das Weihnachtsfest einstimmen als auf einem der schönsten Weihnachtsmärkte Deutschlands?

Der zauberhafte Trierer Weihnachtsmarkt findet auf dem mittelalterlichen Hauptmarkt und vor der imposanten Kulisse des Trierer Domes statt. Vorbehaltlich der aktuellen Pandemie-Situation.

In festlich dekoriert Holzhäusern werden weihnachtliche Waren wie Weihnachtsschmuck, Holzspielzeug, Kerzen, Gläser, Geschenkartikel, Keramik und vieles mehr angeboten. Für das leibliche Wohl sorgen Bratwürstchen, Reibekuchen, süße Sachen sowie heißer Tee und Glühwein. Wann besucht Ihr uns?