Opening Times:
Monday through Thursday

10:30 a.m. - 8:30 p.m.

Friday and Saturday

10:30 a.m. - 9:30 p.m.

Sunday

11:00 a.m. - 8:30 p.m.
Welcome to Christmas Wonderland!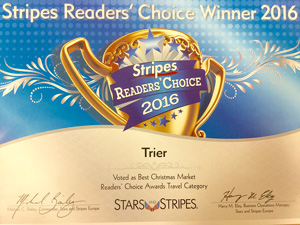 Romantic and pensive Christmas atmosphere: Where could you better get in the mood for Christmas than at one of the loveliest Christmas markets in Germany?
The enchanting Trier Christmas Market takes place from November 23 to December 22, 2018 on the medieval Main Market and in front of the imposing backdrop of the Trier Cathedral.
EXCEPTION: The Market is closed Sunday, November 25, 2018.
Special opening day in cooperation with the Trier City Initiative on Thursday, December 13, 2018 from 10:30 a.m. to 10:00 p.m.!
In the 90 festively decorated wooden booths you will find Christmas articles such as Christmas decorations, wooden toys, candles, hand-blown or engraved glassware, gift articles, ceramics and much more. Good food awaits you as well: bratwurst sausages, potato pancakes, sweets, hot tea and mulled wine. When are you coming to visit us?